Heather Hedden publishes The Accidental Taxonomist
We here at Synaptica have worked with Heather Hedden for a number of years now and were very excited to learn that she has completed her new book The Accidental Taxonomist.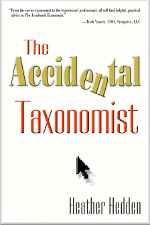 We found it to be a great read and full of information that will benefit anyone from a novice to the most seasoned taxonomy expert. Be sure to look for references to Synaptica inside! Pick up your copy today here.